GeoConnect is a powerful support tool that provides a link between you and the resources of the Helmel Software Support Group.

GeoConnect – Allows us access to your Geomet system anywhere in the world utilizing the power of the Internet. With this access, our engineers can work with you and see your system as if they were standing next to you. Our engineers, by taking control of your Geomet system can easily handle most support questions. Changing a setting, updating drivers, even installing new software can be handled through GeoConnect.
Using GeoConnect with eMail Support
During a support session, our support engineer may request a GeoSupport session. A email letter is generated and sent to you. A typical email is displayed here.

GeoSupport - email request

To initiate the GeoConnect Session, click on the link in the email and sign on form will appear. In that form you enter your name, email address and give permission to start the session.

When the session starts, you will have direct connect through the Internet with a tech-support communication window. Here you will be able to chat with the support engineer if you are not already communicating though a phone call.

The support engineer may request to take control of your Geomet system. When you give permission, our support engineer will now take control of your system and be able to navigate as if standing right there.

The GeoConnect session will allow our support engineer to investigate your Geomet system settings, run an inspection program or if required transfer and install updates. At any time you can take back control of your system by just clicking your mouse!
Using GeoConnect without eMail Support
Should the Geomet computer system NOT have eMail support, we can still initiate a support session. To do this, our support engineer will start a session and provide you with a Support Session Number.
To start the session, from the Geomet computer system launch the Internet browser and use the internet address: http://helmel.webex.com, or you can click this link.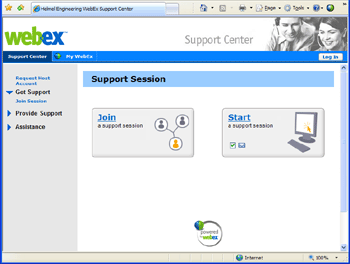 From the Support Session screen you have two choices. In all cases you will <Join> the support session our engineer has began.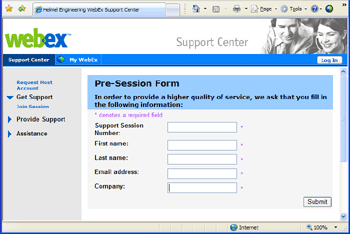 Enter information in all data fields and press <Submit>. The support engineer will receive a message that you have joined.
Tracking
All conversations are recorded and stored in the Support database we use to track support issues.
Internet Connection
All these on-line tools are ineffective if you are not connected. Connecting Geomet to the Internet offers many support features, such as GeoConnect and access to free upgrades that you can not get from a phone call. Geomet is already designed to connect to the Geomet web site to retrieve the latest help and tutorials. Most functions in Geomet have a direct link to the corresponding support page in the Knowledgebase. For example, if you are measuring a Circle, just press the function key and you will be guided to the Circle support page in the Geomet web site. Printed manuals can not keep you current. We update the Geomet Knowledgebase with every change in the Geomet software.

Get connected and stay up-to-date!